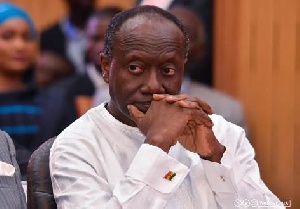 The Minister of Finance, Ken Ofori-Atta, should have resigned following the controversy that arose with the issuance of the $2.25billion bond to Franklin Templeton, Isaac Adongo, Member of Parliament for Bolgatanga Central, has said.
According to him, Mr Ofori-Atta's continued to stay in office while several bodies, international and local, have been petitioned to probe the deal, is surprising.

Speaking in an interview with Valentina Ofori-Afriyie on the 505 programme on Class 91.3FM Wednesday, July 5, Mr Adongo said: "I am surprised that the Finance Minister still has the confidence and the courage to be sitting there.

"Don't the people of Ghana deserve to know the full extent of the transaction? And he is still sitting there. We will do everything possible to get to the bottom of this matter and to protect the public purse. He should have resigned by now."

Meanwhile, the Minority in Parliament has petitioned the Commission de Surveillance de Secteur Financier (CSSF) in Luxembourg to investigate the $2.25billion bond issued by Finance Minister Ken Ofori-Atta.
This is in addition to an earlier petition filed at the US Securities and Exchange Commission (SEC) which is also probing the issuance of the bond in which US-registered Company Franklin Templeton purchased 95 per cent of the 15-year and seven-year bonds. The SEC is investigating suspected conflict of interest and insider trading which are violations of US law by Trevor G. Trefgarne, Director of Franklin Templeton and a Board Chairman of Enterprise Group – a company owned and founded by Ghana's Finance Minister Ken Ofori-Atta.

At a press conference in Accra on Wednesday 5 July, Minority Leader Haruna Iddrisu disclosed that following investigations by NDC MPs, although parent company Franklin Templeton was registered in the United States of America, it would appear it used a subsidiary company registered in Luxembourg to purchase 95 per cent of the bonds.

Therefore, to satisfy additional jurisdictional issues, based on the revelation, some minority MPs comprising Dr Dominic Ayine, Samuel Okudzeto Ablakwa, and Isaac Adongo have filed a whistleblower complaint with the regulator in Luxembourg known as the Commission de Surveillance de Secteur Financier (CSSF), which has begun looking into the matter.

Mr Iddrisu further disclosed that contrary to the impression created by the Finance Minister that the prospectus for the issuance of the said 2017 bond was entirely new, "we can reveal that the notification document or prospectus he presented to parliament is the same prospectus used by the previous NDC government in the issuance of its September 2016 bond which was based on an unfettered book-building approach".