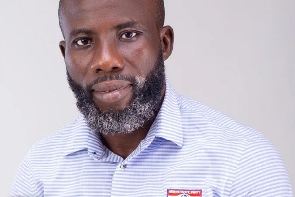 The Bono East Regional Chairman of the ruling New Patriotic Party (NPP), Ibrahim Baba Bukhari popularly known as 'Game Changer' has said his party remains confident in winning the Assin North by-election.
Ibrahim Baba Bukhari observed that the Elephant party will do anything mentally, financially, physically and spiritually possible to win the Assin North parliamentary seat.

The NPP stalwart in an exclusive interview with OTEC News reporter, Jacob Agyenim Boateng on Thursday, June 8, 2023, noted that the party was poised to add another seat to their numbers in parliament and the Assin North by-election presents an opportunity to achieve that feat.

He noted that they are unperturbed by some antics by the main opposition National Democratic Congress in the constituency.

Assin North by-election

The Cape Coast High Court in the Central Region in July 2021, declared the 2020 parliamentary election held in the Assin North Constituency as null and void because Quayson breached the provisions of the constitution about dual citizenship.
The Supreme Court on May 17, upheld the ruling of the Cape Coast High Court and directed Parliament to expunge his name from its records.

On Tuesday, May 30, Parliament declared the Assin North seat vacant giving way for fresh elections in the constituency.

The Electoral Commission subsequently slated a by-election in the area on June 27.

NPP primaries

Meanwhile, the NPP on June 7, 2023, elected one Charles Opoku, an electrical engineer to represent the party in the Assin North by-election.
Charles Opoku was declared as the winner after beating his strong contender Fredrick Freeman Amoah-Kyei to win the New Patriotic Party (NPP) Assin North constituency's primaries.

He pulled 397 votes to overpower Amoah-Kyei who got 136 votes.

Charles Opoku has since embarked on an intensive campaign with support from the regional and national wings of the party.

He will race for the seat with the immediate past Member of Parliament for the area, James Gyakye Quayson who is also representing the NDC in the by-election.