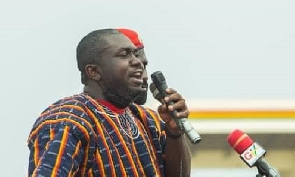 Oliver Barker-Vormawor has called on the people of Ho to boo president Nana Addo Dankwa Akufo-Addo when he attends the upcoming independence day celebrations.
The Volta Regional capital has been slated for the 66th national Independence Day ceebration going by a recent rotational policy by the government.

In a post on Facebook dated March 1, the activist cum lawyer explained why Akufo-Addo needed to be booed.

He wrote in part: "I am calling on the People of Ho to boo the President when he comes there for the 6th March. Boo him louder than he has ever been booed in his life before.

"Let him understand the trauma of his Presidency. Your ancestors fought for Independence. Singlehandedly Gbedemah kept the Revolution alive when Nkrumah was jailed," he stated.

He said the call to boo Akufo-Addo was the least that was being asked of them adding that Akufo-Addo has become an embodiment of "everything that Nkrumah will be repulsed by.
"Make Ghana Proud. Boo the President," he concluded.

President Akufo-Addo suffered a number of booing incidents last year notably at a concert in Accra and during an official trip to the Ashanti Region.

Vice President Mahamudu Bawumia suffered a similar fate when he attended the Hogbetsotso Za late last year.

SARA