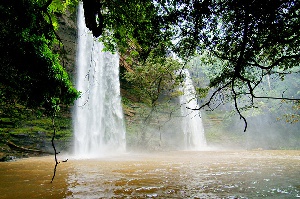 Boti falls, a site made for pleasure and tourism recently saw an unfortunate incident of 32 year old, Mr.Jeremiah Bediako's death and his family is blaming the management of the facility for negligence.
We think management of the Boti Falls are responsible for what happened to our brother," he said.

According to him "For a facility like this attracting a lot of people; there are no warning signs indicating where to go and where not to go… which part is deep, which part is shallow and which part is slippery and where it is not," Paul Atta uncle of the deceased stressed.
The deceased Jeremiah Bediako died at the Boti falls when he tried to rescue his American Friend who was drowning. His family is therefore blaming the facility for his death because "even when the life guards saw my brother drowning they did not do anything to rescue him" he sadly said.