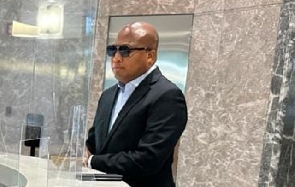 North Tongu Member of Parliament, Samuel Okudzeto Ablakwa has announced details for the release of part two of a seven-part series of the American edition of what he has dubbed the National Cathedral Scandals.
He said the second edition of his discoveries in the United States during a trip dedicated to digging deeper into the dealings of the Cathedral saga will be released on Thursday, May 4, 2023 at 6 am.

"Let's reconvene here at 6am tomorrow for a response to the National Cathedral Secretariat's reaction to my Episode 1 of the "National" Cathedral Scandals American Edition and a publication of Episode 2 as earlier promised. For God and Country. Ghana First," he posted on his social media handles late Wednesday.

Ablakwa published the first installment on May 2, 2023 via his social media handles.

In the edition, he revealed among others that the National Cathedral had registered an entity in the United States, which entity was different from the one in Ghana.

He said checks he conducted in Washington DC showed that the address contained on the official documentation was fraudulent and that only three trustees were registered in the US with no trustee in Ghana listed.
Ablakwa also revealed that an American consultant for the project Cary Lee Summers' official address led to a warehouse in Missouri.


Let's reconvene here at 6am tomorrow for a response to the National Cathedral Secretariat's reaction to my Episode 1 of the "National" Cathedral Scandals American Edition and a publication of Episode 2 as earlier promised.

For God and Country.

Ghana First ???????? pic.twitter.com/FFGUJCo0kj

— Sam Okudzeto Ablakwa (@S_OkudzetoAblak) May 3, 2023
Meanwhile, watch the latest episode of People and Places on GhanaWeb TV below:
Watch the latest episode of The Lowdown below:






SARA