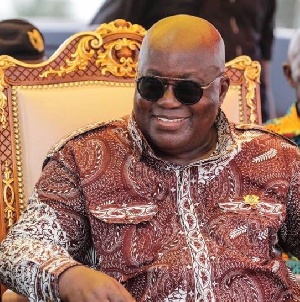 The Minority spokesperson on foreign affairs has hinted of another Visa Scandal in President Akufo Addo led Government.
Details of this new Visa Scandal expected to rock the nation according to him will be made public after the New Year celebration.

"...... there is another Visa Scandal coming we will reveal it soon in the New Year. The Scandals will continue because it is free for all".

In April 2018, Ghana was embarrassed at the World Stage when it emerged that 50 Ghanaians had been deported from Australia after they were deemed to be "non-genuine travelers" posing as journalists for the Commonwealth Games. Australian authorities explained that, although all the affected persons had the necessary accreditation, they were not convinced the reported persons were real journalists.

Government referred the case to the National Security for investigations but the two Prime Suspects, then Deputy Minister for Youth and Sports, Pius Enam Hadzide and the Board Chairman of the National Sports Authority, Kwadwo Baah Agyeman, who were suspended were reinstated after they were exonerated of any wrongdoing.

Speaking at Frankadua during a graduation ceremony and handing over of startup equipment to about 38 youth trained in various vocational skills by the Member of Parliament for Asuogyaman, Thomas Ampem Nyarko, Mr. Ablakwa said president Akufo Addo led government has become" the most scandal riddled government in the history of Ghana" blaming the situation on the "Clearing agent" posture of President Akufo Addo.
He said the president reluctance to probe corruption allegation against his appointees has become a source of motivation for other appointees to be corrupt.

"Every week every month new scandal after Scandal after scandal. This has been the most scandal ridden government in the history of Ghana. The scandal will be more I can assure you, because their leader President Akufo Addo has become a clearing agent whenever something happens ....oh! I won't investigate there is nothing in it oh I won't investigate.

The Australia Scandal up to now we don't know who put those names together as Journalists and because of that Ghanaians when applying for Visas you are made to suffer by going through more scrutiny".



Samuel Okudzeto Ablakwa, who is the Member of Parliament for North Tongu said but for the vigilance of the Minority in Parliament, Ghana would have recently lost millions of cedis in the Purchase of a 100-year-old building in Oslo Norway for Ghana's new mission which he says was bought by a certain woman for $2.9 million in 2014 and sold to an unknown buyer for $3.5 million in August 2017, but Ghana was going to purchase it at $12.2 million.
He said the Minority will not be part of any conspiracy to loot and defraud the nation hence will continue to be vigilante in Parliament to expose the rot.

"You can trust the NDC Minority in Parliament but we will not be part of any conspiracy to defraud Ghana. We will be vigilant .You heard Bawumia insulting us, we don't read at the beginning of our tenure that we don't lead we are incompetent we can't see and all of that now they say we are reading too much and we are disturbing them too much and we should come and see them behind the scene when we read and discover what they are up to. You can be rest assured we will live by the Oath of Office and we will make sure that Ghana is not shortchanged, Ghana is served well".

The Member of Parliament for Asuogyaman, Thomas Ampem Nyarko bemoaned the many projects initiated by the Mahama led government in the District has been abandoned by the NPP government.

The MP also used the opportunity to open a toilet facility as part of his share of the common fund.