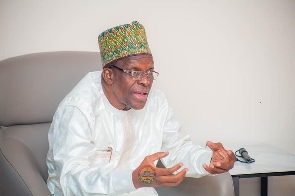 The Chairman of the All-Party Parliamentary Group (APPG) on Inclusive Growth, Liam Byrne (MP), who is also a member of the House of Commons' Foreign Affairs Committee, has congratulated Ghana's Speaker Alban Bagbin, for his lead role in setting up the Parliamentary Network on the International Monetary Fund (IMF) and the World Bank in Africa.
Mr Byrne was impressed with the patronage and interest in the network that the Ghanain speaker has been able to generate among Members of Parliament on the continent and the strides that the network has made so far in countries where they have been set up.

The British MP was speaking at a meeting with the parliamentary delegation from Ghana to Westminster in London led by Mr Bagbin.

With Mr Byrne at the meeting was Dame Caroline Dinenage (DBE MP), a former Minister of State at the Department for Digital, Culture, Media and Sport.

The meeting focused on ministerial obligations and parliamentary scrutiny.

Mr Byrne also told Mr Bagbin: "I am proud of your role in the current difficult situation of a hung parliament in Ghana, and your efforts at maximising the power and authority of parliament."
He referred to the conflicts in the legislature that the Speaker has had to manage, and his endeavours at promoting collaboration and consensus building, and said they deserved commendation.

Mr Byrne pointed out that one of the best ways for parliament to hold ministers accountable is through the Ministers' Question Time on the floor of the House.

He described the concept of Urgent Questions as one of the most innovative interventions in parliamentary democracy in the last decade.

He had some advice for ministers of state who respond to questions from MPs: "They must develop the capacity to anticipate when they could be invited to the house to field questions from Members of Parliament and preempt these with statements on the vexed issues which provide some steer on how they are being managed."

Mr Bagbin said the dual role of MPs who are also ministers is a challenging one.
Developing policies and other instruments for parliament to approve, and then sitting in as an MP to scrutinise, approve and exercise oversight responsibility for how it is implemented could be puzzling, he noted.

Yet, he said, the role of Members of Parliament as leaders is also to provide hope and optimism for the majority of the population.

He noted that MPs must not be seen complaining about situations in which they find themselves, else it will generate despondency among the populace.

This, he added, is in spite of the fact that current uncertainties within the political domain have had adverse effects on the work of MPs.