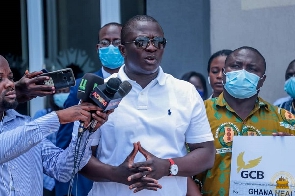 The Deputy National Communications Officer for the National Democratic Congress (NDC), Mr Godwin Ako Gunn says Bryan Acheampong is not fit for a substantive ministerial position.
He said this following the recent reshuffle and appointment of ministers by the President, Nana Addo Dankwa Akufo Addo.

The Member of Parliament (MP) for Adansi Asokwa in the Ashanti Region, KT Hammond, has been nominated by President Akufo-Addo to replace Alan Kyerematen at the Trade and Industry Ministry.

The MP for Abetifi Constituency, Bryan Acheampong has also been appointed as the Food and Agriculture Minister in place of Dr. Owusu Afriyie Akoto.

The move is part of four new ministerial nominations, two elevations from deputy minister to Minister of State positions, and one deputy ministerial reshuffle made by the President.

This was after some of his ministers, including Mr. Alan Kyerematen, Dr. Afriyie Akoto, and the Minister for Chieftaincy and Religious Affairs, Ebenezer Kojo Kum, resigned from their respective positions to pursue their presidential ambitions, among others.
MP for Nhyiaeso, Stephen Amoah, will be one of the Deputy Trade Ministers. Herbert Krapa, who was one of Alan's deputies, has been shipped to the Energy Ministry as deputy minister.

Stephen Asamoah-Boateng, the former Director-General of SIGA, is now the new Minister of Chieftaincy and Religious Affairs.

OB Amoah is now Minister of State at the Ministry of Local Government.

Mohammed Amin Adam has also been put in charge of the Finance Ministry as Minister of State.

Speaking on Atinka TV's morning show, Ghana Nie with Co-Host Nana Yaw Fianko, Ako Gunn questioned what new KT Hammond was bringing on board at his age, after he sold Ghana's Drill Ship.
"Bryan Acheampong, was he not in government already?" Is he not the one who led thugs to Ayawaso West Wuogon?" What did the Commission say about him? What new thing is he bringing back? While we have youthful people in the NPP who could have been given the opportunity," he said.

Ako Gunn also questioned why the President failed to mention the credentials of the appointees and the basis for their appointment like he did before with the others.

"Asamoah Boateng was in government; he has come again. Why didn't the President mention their credentials and the basis on which they were appointed like he did before when they said they had the men? We don't reshuffle just to reshuffle. We do not reshuffle because someone has "chopped" some, so another person must also come and chop some. "That is what I see," he said.

You can also watch this edition of People & Places on Ghanaweb TV: