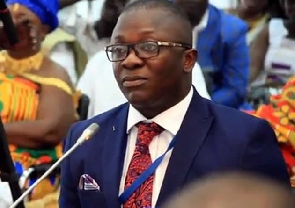 The Commission that investigated the violence at that marred the Ayawaso West-Wuogon by-election in January 2019 has recommended to the President to clarify the exact role of the Minister of State in charge of National Security at the Presidency.
The committee believes this will establish a clear chain of command between his role and that of the substantive minister.

"The Minister of State appointed at the Presidency to the ministry of National Security should have clearly delineated role with responsibilities indexed to that of substantive sector minister. This should establish a clear chain of command and the circumstance under which he or she can act in the absence of substantive minister,"

It also recommended operatives should be re-assigned to their respective units after disbanding the SWAT team.

"The Commission recommends that the SWAT team of the National Security Council Secretariat should be disbanded and operatives be reassigned as appropriate," the report recommended.
It added: "The Commission further recommends that support for special operations should be sought from the specialised units of the police directly as and when necessary."

Also, the Commission recommends "intelligence sharing between relevant agencies where an operation would entail or necessitate inter-agency cooperation" such as by-elections among others.