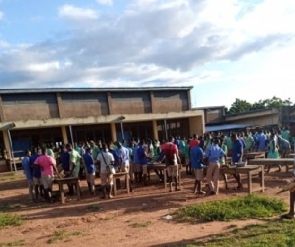 The management of Ghana Buffer Stock Company has rubbished reports it is no longer in charge of supplying food for the Free Senior High School (FSHS) program.
Media reports were rife the contract has now been handed to another company owned by cronies of the Minister of Education, Dr. Yaw Osei Adutwum.

But speaking to Starr News CEO for the Ghana Buffer Stock Company, Abdul Wahab Hanan explained that the government has rather asked the Ghana Commodities Exchange to compliment the work of his outfit in supplying food for the Free SHS program.

According to him, the move which is a temporary measure is to ensure there is no shortage of food in schools.

"That is not accurate because we have another institution Ghana Commodity Institute, it's a government institution under the Ministry of Finance. We also have some registered distributors or suppliers under them. So all that we are doing is to create a platform where there will not be this issue of food shortage.
"We have also brought them to support some commodities so it is not like they have taken away anything from us. We are in-charge of food security. So they are just there to support," Mr. Wahab Hanan disclosed.

He emphasized that the most important thing is there should be food in the schools adding that the support is a temporary measure.

"All that we are interested in is that they should make sure that there is food in the schools," the CEO added.