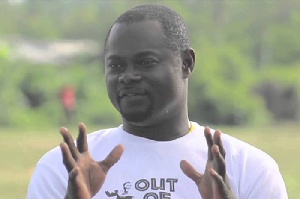 Former Black Stars player and current assistant coach of Sekondi Wise Fighters, Nii Odartey Lamptey, believes the lack of proper attention on Ghana's local league is a factor for the country's inability to win any continental showpiece.
After the exit of the Black Stars from the ongoing Cup of Nations, discussions have occupied airwaves on how the country can learn from this elimination and start planning and building a team for the future.

Nii Odartey Lamptey has suggested that the country should take a critical look at the local league and address especially the salaries issues of players.

He said the issue is a major factor responsible for young talents not staying in the country for a considerable number of time before they leave for foreign teams.

Speaking on Kumasi based Nhyira FM, he said the country loses big time in the long run because the talents who will grow for the national team do not reach their full potential in order to survive in the global pressure to perform.
"If you look at our league, it is not attractive. So we must take a critical look at that. I think even how we pay, it has contributed to the players leaving the country to play in other countries even when they are not ripe."

"The problem is, if you are not ripe or matured enough and you leave to go out and play, you may lose the talent that you have. I think this is a major issue we should look at."

"If we are able to develop our league very well, our players can mature before they go out to the outside world," he said.