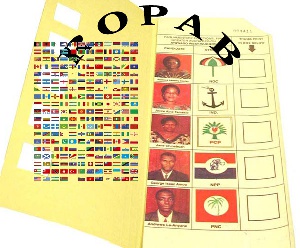 Thu, 23 Feb 2006 Source: GNA
Accra, Feb. 23, GNA - Parliament on Thursday voted to pass the Representation of the People (Amendment) Bill, practically closing all avenues for further changes.

The Minority, who had vehemently opposed the bill from the onset, was absent due to their indefinite boycott of Parliament. The bill had generated anxiety and debate even in homes and public places in the country ever since the Government introduced it Parliament 2005.


The bill seeks to amend the Representation of the People Law, 1992 (PNDC law 284) to enable Ghanaians resident abroad who by virtue of restrictions imposed on them by the Law are unable to register and vote in public elections and referenda in Ghana to do so. The Minority had among other things cited administrative hurdles and practical problems such as logistics and geographical distance as some of their reasons for opposing it.


Mr Alban Bagbin, the Minority Leader, who read a statement on behalf of his group during the second reading, said they were not opposed to the principle of extending franchise to Ghanaians living abroad. He said there were serious legal and administrative problems that had to be cleared before the proposed law could operate without negative consequences.


The Members of the Majority had sat through the rough and tumble of all the stages with tact. In fact not a single member of the Majority said a word during one of the stages.

They had earlier declared that they sensed mischief in the rhetoric of the Minority saying that the Minority wanted to deny a good number of Ghanaians living abroad the right to vote. Some Legal analysts, however, contended that the amendment to the parent law was a matter of constitutional necessity, which did not need a ceremonial touch.


The PNDCL284 conflicted with Article 42 of the Constitution. A group called Diaspora Vote Committee (DVC), a pressure group, had threatened to seek the view of the Supreme Court on the matter if the vote of the bill fell through.


The New Patriotic Party has a practical Majority of 128 and could lean on four members of People National Convention (PNC), three members of Convention People's Party (CPP) and one independent member, who have opted to be on the side of the Majority in Parliament. They did not need the 94 members of the National Democratic Congress (NDC) to pass the ROPAB.


The Minority NDC members could have obstructed the passage if the amendment involved an entrenched clause in the Constitution. The House needs two-thirds majority of all members' votes to carry through a constitutional amendment but a simple majority of members is needed to pass a bill like ROPAB.

Source: GNA