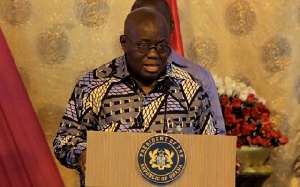 President Nana Addo Dankwa Akufo-Addo has condemned the terror attack in Ouagadougou, the capital of Burkina Faso, describing it as "insane and cowardly acts".
Eighteen people were killed and about 20 wounded when gunmen opened fire on customers seated outside a Turkish restaurant in Ouagadougou on Monday, 14 August 2017.

Nana Akufo-Addo, in a statement, said he received the news of the attack with "shock" and "sadness".

The statement read: "I received news of the terrorist attacks at a Turkish restaurant in Ouagadougou, which have left at least 18 people dead and several injured, with utter shock and sadness. I join the rest of the world in sympathising with the families of the dead and the injured.

"I wish to condemn, unreservedly, these insane and cowardly acts. No religion or ideology justifies the killing of innocent people, and the world must stand up together against all the atrocities that go on around the world in a twisted understanding of religion or ideology.
"President Roch Marc Christian Kaboré and the Burkinabe people need to be assured with deeds, not just words that the world stands with Burkina Faso and stands ready to support them in the necessary fight against such evil.

"Once again, I send my deepest sympathies to the affected families, and to the government and people of the brotherly nation of Burkina Faso."

Monday's attack was similar to one in January 2016, when gunmen targeted the Splendid Hotel and the Cappuccino restaurant where more than 170 people were taken hostage and 30 killed.

The al-Qaeda in the Islamic Maghreb (AQIM) group took responsibility for that attack.