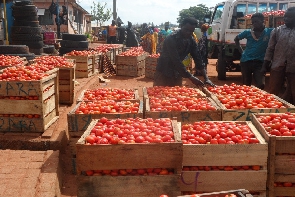 Prices of tomatoes in Ghana have gone high since the beginning of 2023 following insecurity in neighboring Burkina Faso where the commodity is imported from.
The unprecedented increment in prices of the perishable produce according to the Deputy Queen Mother of Tomatoes Sellers in the Ashanti Region is a result of the government's inability to make use of the various irrigation systems, the depreciation of the Ghana Cedi among others.

Key among the reasons is the security instability in countries north of Ghana where the produce is sourced directly from.

"There is conflict in most places we can get the tomatoes to buy so it has made it difficult for us to get the tomatoes. They have increased the prices at least ten times the usual price.

"The depreciation of the Ghana cedi against the CFA also contributes to the increase in price," Deputy Queen mother of the Ashanti Regional Tomato Sellers Association Hajia Mansura revealed

"Currently, all tomatoes on the Ghanaian market are imported from Burkina Faso". She confirmed.
As of Wednesday, April 26, 2023, according to checks by our reporters, a box of tomatoes was sold at GHC3500 while four pieces (large size) of tomatoes are also sold at GHC10.

A box of tomatoes as of the beginning of January 2023 according to the traders was sold for GHC 800.

Assistant Queen Hajia Masuru revealed that prices of tomatoes on the markets have increased by more than 400% since the beginning of the year.

Some traders at the Racecourse market also lamented on the low patronage of the vegetable and said most of their customers are not able to purchase the product because the prices are now higher as compared to how they sold them at the beginning of the year.