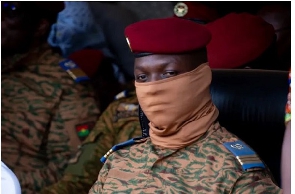 The military junta in Burkina Faso has confirmed quashing a counter coup on September 26, 2023.
In a statement dated September 27, 2023, the government spokesman said a number of officers are currently in the grips of the prosecutor for their roles in the failed attempt.

"The Transitional Government informs public opinion that a proven coup attempt was foiled on September 26, 2023 by the Burkinabè intelligence and security services. At present, officers and other alleged actors involved in this attempt at destabilization have been arrested and others actively sought.

"The actors of this disastrous project of destabilization, driven by interests at odds with the dynamic of reconquest of our national territory and the sovereignty of our dear country, harbored the dark intention of attacking the institutions of the Republic and precipitating our country in chaos," the statement read in part.

Hundreds of people poured into the streets of the Burkinabe capital, Ouagadougou on Tuesday evening, with reports stating that they were engaged in a pro-junta march.

The march was in response to rumours that the Colonel Ibrahim Traore-led junta was facing an internal coup.

Even though some media outlets claim the coup was organized by some insiders in the junta, GhanaWeb was unable to independently verify that claim.
Videos and photos sighted by GhanaWeb showed a mobilization that was dominated by men, few women and fewer children at a roundabout in Ouagadougou, some chanting slogans, others singing whiles others simply looked on.

Burkina Faso is one of four West African countries that have experienced a coup in recent years.

The first was the removal of Christian Roch Marc Kabore from office in 2022 by then junta leader Sandaogo Damiba, who six months on was also deposed by the Ibrahim Traore-led junta.

Insecurity was one of the main trigger factors for the last two coups, the spate of killing has not abated since Traore took over.

Burkina, Mali and Niger (all currently under juntas) are currently in an Alliance of the Sahel Nations aiming to combat spreading terrorist violence.


Official statement pic.twitter.com/M1iTBFA4fA

— Casus Belli (@casusbellii) September 27, 2023