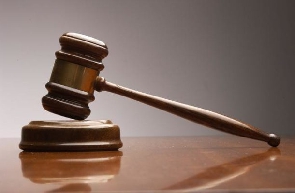 Sat, 21 Jan 2023 Source: GNA
A businessman who allegedly defrauded a Chinese businessman of USD60,000.00 in Accra has been granted bail by an Accra Circuit Court.
The Abubakar Sadik allegedly defrauded the Chinese under the pretext of securing him a forex bureau license and also promised to allegedly lead him to the Vice President for business opportunities but failed.

He was also charged with conspiracy to commit crime but he pleaded not guilty.

The Court presided over by Mrs Susana Eduful, admitted the accused person to bail in the sum of GHC800,000.00 with two sureties.

The Court ordered that all the sureties should be justified with a title document in their name.

The prosecution was directed by the Court to file and serve all disclosures and witness statements on the accused person.

The case was adjourned to March 7, 2023.
Police Inspector Teye Okuffo, prosecuting, told the Court that the complainant in the case was a public servant and worked at the Presidency whereas the accused person was a resident of Weija.

The prosecution said the complainant reported to the Police that a Chinese businessman by the name, Liu Feng Lei had arrived in the country on a business trip and wanted help.

It said a Vietnamese, by the name of Kenneth King Nguyen, an accomplice now at large, allegedly introduced Liu Feng Lie to the accused person to help him move around town to familiarise himself and know what business to do in the country.

The prosecution said in the course of their interactions with the accused person, he told him that he could help him do any business in the country and that he could even lead him to meet the Vice President for other business opportunities.

It said the accused person also assured him that he could help him get a license to operate a forex bureau and upon such false representation demanded and collected USD60,000.00 from Lie Feng Lie allegedly.

The prosecution said the accused person failed to introduce Liu Feng Lie to the Vice President and also failed to secure him the forex bureau license as promised and went into hiding.
It said the accused person was located at Weija at his hideout and he was arrested.

The prosecution said during investigations, he admitted the offence and stated that he collected the money from Liu Feng Lie and gave USD6,000.00 to his Godfather and used USD23,000.00 for processes to get the forex bureau license without showing any proof.

It said the accused person also indicated that he gave King Nguyen, his accomplice, USD18,000.00 but could not state the reason for doing so.

The prosecution said efforts were underway to arrest King Nguyen to assist with investigations.
Source: GNA