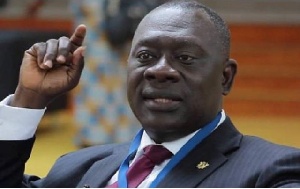 It is unfortunate that 1,700 workers of the Consolidated Bank Ghana Limited (CBG) are losing their jobs, O B Amoah, Deputy Minister of Local Government and Rural Development, has said.
Some 1,700 employees of CBD will, by the end of September 2018, lose their jobs.

Out of the number, 700 are mobile bankers of now-defunct BEIGE Bank, while 1,000 are former employees of The Royal Bank, The Construction Bank, uniBank and Sovereign Bank.

The Bank of Ghana recently fused uniBank together with Sovereign Bank, The Royal Bank, The Beige Bank and The Construction Bank to form a totally new local bank called Consolidated Bank Ghana Limited.

The fusion of the five banks follows the takeover of two other local banks: UT Bank and Capital Bank by GCB Bank in August 2017 with the blessing of the regulator after it emerged that they were in dire straits.

In total, seven local banks have gone under, as the Bank of Ghana's 31 December 2018 deadline for all universal banks to recapitalise from the GHS120 million to GHS400 million draws closer.

Speaking on this development on TV3's New Day Saturday September 1, Mr Amoah said : "As we have heard 1,700 out of 3,700 have been asked to re-apply and that some may lose their jobs. It has come out because of the unfortunate situation of how we run the banking sector.
"It is unfortunate because we wish that more people will be employed, not when people are already employed and they will have to go home because of various circumstances.

"But the fact that probably, you want to employ more people doesn't mean that you should run a very deficient and inefficient system. We have come through this before with state-owned enterprises. The last budget of the CPP in 22nd February 1966 catalogued so many reasons why our state-owned enterprises were not working – overstaffing, lack of qualification. At the end of the day you could see that the whole system was bloated simply because you wanted to offer jobs to people and it didn't work.

"If they are to keep all these and later on we hear that Consolidated Bank has also collapsed, we will be the same people complaining again.

"Instead of 1700 losing their jobs then all the 3700 will their jobs , instead of us having our deposits, our deposits may be going in flames , so I think that if the rational thing to do at this time is this we should look at it but we can still interrogate it ."