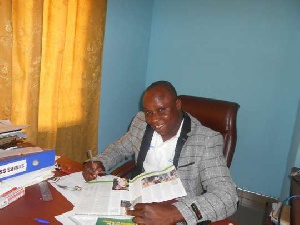 The Community Development Alliance (CDA-Ghana) has called on government to conduct a thorough audit into the subsidized fertilizer programme introduced in 2017 because it is fraught with widespread irregularities and corruption.
The local non-governmental organisation operating in the Upper West Region said it has uncovered mass fraud and smuggling of the fertiliser meant for local farmers after a baseline study was conducted in Sissala West and Lambussie districts during last year's farming season.

Mr Salifu Issifu Kanton, CDA-Ghana Executive Director, told journalists during a breakfast meeting in Wa, that government subsidized fertilizer programme was good but there were serious challenges with its implementation, hence the need for a review.

He said the programme was not new in the country but its implementation has not yielded the desired impact on productivity and income of smallholder farmers.

"Unfortunately, many Ghanaians are not seeing the impact of the current programme, it's not to say the policy is not good, we are not opposed the policy, however, we think we must encourage all to think through to see how to make it effective," he said.

"Greedy people are stealing it and it's in the government own interest the policy is audited" he added: "The way we are implementing it now is unsustainable".
Mr Bipuah Sulemani, the Programmes Manager of CDA-Ghana, who presented highlights of the report, said the study aimed to identify successes, challenges and make recommendations to government.

It also sought to determine whether the programme had increased access and whether it boosted production of food crops by smallholder farmers.

Again, the researchers attempted to establish whether perceived smuggling of subsidized fertilizer into neighbouring Burkina Faso was a reality.

Mr Sulemani said the study revealed no statistically significant differences among beneficiary farmers and non-beneficiaries on the application of NPK fertilizer and ammonium sulphate in the two districts.

Mr Sulemani said all participants unanimously agreed to the existence of smuggling activities in the districts the study was being carried out, however, government officials pf such as the District Chief Executives and Ministry of Food and Agriculture officials perceived the smuggling activities not to be widespread.
Evidence from the study available to the Ghana News Agency shows that there has been an increase in the use of fertilizer following the introduction of the programme in 2017 resulting in the marginal rise in yields and incomes but many anomalies persisted.

The study revealed fertiliser smuggling into neighbouring Burkina Faso was "endemic" in the areas the study was carried.

There are inadequate storage facilities and centralization of the subsidized fertilizers created an avenue for irregularities coupled with inadequate extension officer