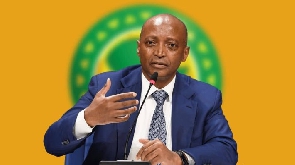 The President of CAF, Dr. Patrice Motsepe will be in attendance this evening when the CHAN 2023 tournament kicks off in Algeria.
Speaking at the opening ceremony, the CAF president said he has no doubt this will be the best CHAN tournament in the history of the Championship of African Nations.

"Algeria is the home of all Africa. I want to thank the people of Algeria for welcoming everyone. We are going to make this CHAN the best CHAN in the history of Africa," Dr. Patrice Motsepe said.

The CAF President added, "Football brings the people together. We will continue to bring people together to unite the people of Africa and the people of the world.
"I wish the countries that are here good luck. Algeria, make African football very proud."

In the first game of the tournament, host nation Algeria are playing against Libya. The game is scheduled to kick off at 7pm.