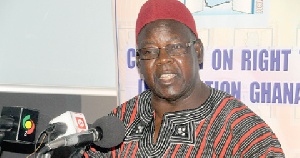 An anti-graft campaigner, Vitus Azeem, has revealed that the Commission on Human Rights and Administrative Justice (CHRAJ) cannot at the moment, investigate corruption allegations against the two Deputy Chiefs of Staff, Francis Asenso-Boakye and Samuel Abu Jinapor.
According to him, the body has been without deputy commissioners since this government took over in January this year, a situation that renders CHRAJ incapable of carrying out any investigative works.

He explained that the constitution states that CHARJ needs at least three deputy commissioners in order to carry out its work, therefore any attempt of the body in its current state to probe any matter will be in violation of the constitution, although it can accept petitions.

His comments follow Dynamic Youth Movement of Ghana (DYMOG), a pressure group, dragging Asenso-Boakye and Abu Jinapor to CHRAJ for them to be investigated in connection with corruption allegations levelled against them by musician, Kwame A-Plus.

The petition follows revelations that the Criminal Investigations Department of the Ghana Police Service which investigated the matter may have covered up for the two presidential staffers.
Speaking on the matter in an interview with Chief Jerry Forson, host of Ghana Yensom on Accra 100.5FM on Friday, September 29 Mr Azeem said: "Talking about CHRAJ, you will agree with me that CHRAJ has been without a second deputy commissioner for the past 8 months, since this government came into power, and the constitution says CHRAJ needs at least three commissioners to do its work.

"Even the Constitution Review Commission recommended additional two, so why is it that we have appointed Ministers, we have appointed Chief Executives, we have appointed Boards of Directors and we are not appointing just one deputy commissioner for CHRAJ, an independent body that is supposed to be investigating acts of corruption, human rights violation and other things? Is it a deliberate attempt to cripple the organisation?

"If you are determined to fight corruption, you must strengthen the anti-corruption institution by giving them the right resources, and adequate people to do the work. This doesn't appear to be happening."