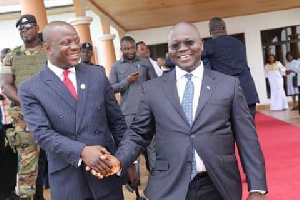 Tue, 3 Oct 2017 Source: Daily Heritage
The Commission for Human Rights and Administrative Justice (CHRAJ) has confirmed receipt of a petition pertaining to the corruption claims against two deputy Chiefs of Staff, Francis Asenso-Boakye and Samuel Abu Jinapor.
A group that calls itself Dynamic Youth Movement of Ghana (DYMOG) believes that the corruption allegations by popular musician, Kwame A-Plus, and the subsequent revelations that the police, may have covered up for the two presidential staffers, demands that CHRAJ takes up the matter.

"It has become necessary for your outfit to trigger an investigation into the said matter following a leaked tape which captures a dialogue during the investigations by the Criminal Investigations Department (CID) of the Ghana Police Service. The leaked tape was a phone conversation between Mr. Kwame Asare (A Plus) and an Assistant Commissioner of Police, Mrs. Tiwaa Addo – Danquah."

The movement (DYMOG) signed by its president Edward Tutor said it was of the firm belief that, the emergence of the leaked tape has made it necessary for an independent body to conduct full fledge investigations into this matter because,

According to DYMOG, "the Credibility of the Ghana Police Service is in possible tatters so far as the emergence of this tape is concerned.

"Secondly, the authenticity of the final investigation report released earlier by the CID, which cleared Mr. Asenso Boakye and Mr. Abu Jinapor is in a state of immense and intense incredulity," DYMOG said in the petition.

Confirmation
The Registrar of CHRAJ Mr. Afetsi Daniel Anang acknowledging receipt of the petition on September 29, said: "I have been directed to inform you that it is receiving attention and we will revert to you (DYMOG) in due cause."

Kwame A-Plus

The Criminal Investigations Department of the Police Service last week described as baseless, a claim of corruption against the deputy Chiefs of Staff by popular musician Kwame Asare Obeng also known as A-Plus.

Director General of the CID, COP Bright Oduro, in a statement, said the report indicated that the evidence provided by A Plus to back his claims were "baseless, unsubstantiated and lacks credibility".

However, an audio thought to be excerpts of a conversation between A-Plus and a female investigator sought to downplay the CID report and suggested a cover-up by the police to protect the two public officials.

 
Source: Daily Heritage