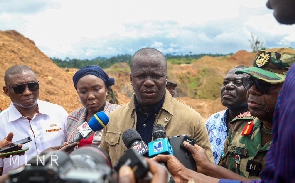 Minister of Lands and Mineral Resources, Samuel Abu Jinapor has disclosed that Akonta Mining Limited, is the subject of two ongoing investigations.
The company owned by Chairman Wontumi, a regional chairman of the ruling New Patriotic Party (NPP) is being probed over alleged involvement in illegal small-scale mining (galamsey).

The Minister in a social media post dated January 10, 2023 said the Police Criminal Investigations Department (CID) and Office of the Special Prosecutor (OSP) were investigating the company separately.

His post was directed at former president John Dramani Mahama, who had accused president Nana Addo Dankwa Akufo-Addo of complicity in shielding relatives and allies implicated in corruption citing the specific case of Akonta Mining.

"As it is public knowledge, the allegations of illegal mining by Akonta Mining Ltd are being investigated by state institutions responsible for such investigations, the Ghana Police Service and the Office of the Special Prosecutor," his post read in part.

"When I received the report from the investigations conducted by the Forestry Commission, pursuant to my directive, I forwarded the report to the Ghana Police Service, through the Minister for Interior, to assist them in their investigations.

"The Criminal Investigations Division (CID) of the Police Service has subsequently written to me requesting some further information, which I have provided," it added.
He also restated a publicly known fact where the OSP in its Half Yearly Report dated 31st December, 2022, confirmed it is investigating activities of Akonta Mining and other companies in respect of the said allegations.

"Officials of the Ministry of Lands and Natural Resources are collaborating with these state institutions to conduct their investigations and take the necessary actions," he stressed.

President Akufo-Addo's comments were to the effect that at the time he was addressing a conference of Catholic Bishops in Koforidua in the first week of January 2023, Akonta Mining was not engaged in any act of illegal mining.

Read Jinapor's full post below: