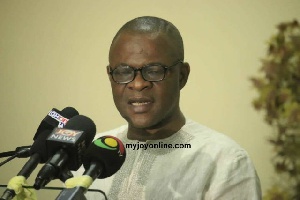 The Director-General of the Criminal Investigations Department (CID) of the Ghana Police Service, COP Bright Oduro, has been removed from office.
His ouster from the Ghana Police Service is contained in a subtle order to him to proceed on his terminal leave, pending his retirement in January next year.

The sudden action, according to DAILY GUIDE sources, was in connection with a series of petitions against him in connection with land-related issues, particularly land guards.

ACP Maame Yaa Tiwaa Addo-Danquah, the Second-In-Command at the CID Headquarters, has taken over the mantle of leadership of this specialized department of the Police Service.

With promotion elapsing her recently, she can expect an elevation anytime soon, as she heads the CID as Director-General – a position which is commensurate with the rank of Commissioner of Police.

It is likely that she would be promoted to the rank of Deputy Commissioner of Police as she awaits an eventual rise to Commissioner of Police, all things being equal.

The relieving order of COP Oduro is part of a planned action against the menace of land guards in the country, especially in the Greater Accra Region.
Miotso shooting

Kennedy Agyapong, Member of Parliament (MP) for Assin Central, has been waging a relentless campaign against COP Oduro for his alleged connection with land guards.

Just last Thursday, Mr Agyapong was on Oman Fm lambasting the police chief over a case involving some policemen at Miotso, near Tema.

According to reports, two people – Francis Tetteh Botchway, 67 years old and Mohammed Dziwornu, 29 – were murdered in broad daylight at Miotso on December 29, 2016, allegedly by a team of five policemen from the Tema Regional Police Command.

The incident, which occurred as a result of a gun battle over a piece of land, also made six other persons sustain various degrees of gunshot wounds.

The Tema Police retrieved two pump action guns, a pistol, one AK 47 rifle with double magazine loaded, Jeep Cherokee and Mercedes Benz cars.
The CID headquarters took over investigations into the shooting incident which occurred in the Ningo-Prampram District, but is yet to arrest and prosecute any suspect as at now.

All these cases conspired to rob COP Bright Oduro of his flourishing career in the police.

Some law enforcement officers at the command level are known to have links with the hoodlums – an association which has often impeded efforts at uprooting land guards from the Greater Accra Region.

Land guards have been responsible for multiple murders in the region, as the hoodlums are engaged to kill for money.

They use sophisticated assault weapons and some of them have links at the topmost echelon of the Ghana Police Service – an association which protects them from prosecution.

Many reports about their activities hit cul de sacs, leaving many Ghanaians to wonder whether the hoodlums are above the law and therefore untouchable.
Flagstaff House sources have hinted DAILY GUIDE that President Akufo-Addo, following his success with his anti-galamsey war, intends applying the template on the incidence of land guards and has already held a meeting with top cops on the subject.

The ousted CID boss, it is suspected, has not been productive in the management of land guard issues which come to his department, hence the scuttling of such cases, leaving complainants to make their personal conjectures.

Replacing him and others thought to have such a record is intended to pave the way for the eventual declaration of war against land guards in the Greater Accra Region where the criminality was born, nurtured and has matured to its notorious level as being evidenced today.

DAILY GUIDE can confirm that a committee to be charged with the task of eliminating land guards is about to be empanelled, outdoored and given powers equal to that bestowed upon 'Operation Vanguard,' the military/police response to galamsey.

Hints of the dismissal of the CID boss were dropped after the latest Cabinet meeting which discussed among other subjects, the issue of gas explosions in the country.

COP Bright Oduro replaced COP Prosper Agblor, who was moved to head the Special Duties Directorate during the current IGP's maiden shakeup since assuming office in January this year.
COP Oduro, who held the position of Director-General of the CID for barely 10 months, was until his elevation, the Director-General in-charge of Welfare – having once upon a time served as Commandant of the Police College.

COP Rose Atinga-Bio, DAILY GUIDE has gathered, is also due to proceed on terminal leave next month – the position of IGP eventually eluding her.