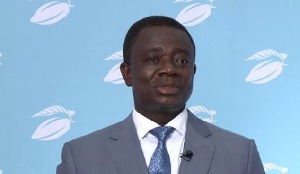 The Criminal Investigations Department (CID) of the Ghana Police Service is reportedly probing some immediate past management and board members of the Ghana Cocoa Board (COCOBOD), including the Chief Executive Officer (CEO), Dr Stephen Kwabena Opuni.
They have been accused of allegedly securing and supplying "spoilt" fertilizers worth $100 million to cocoa farmers nationwide.

The said rotten fertilizers reportedly contributed to the massive drop in cocoa production in the country.

Executive Director of the Economic and Organized Crime Office (EOCO), K.K. Amoah, told DAILY GUIDE yesterday in Accra that his outfit had forwarded the case to the CID for further probing.

"Some of the fertilizers supplied were bad as proved by the Ghana Standards Authority," he told DAILY GUIDE.

Mr. Amoah indicated that EOCO was initially investigating the matter but had to refer it to a special investigative body at the CID headquarters – Special Forensic Unit.

Aside the issue of 'spoilt' fertilizers distribution, the EOCO boss said past officials of COCOBOD were also being probed for allegedly misappropriating funds meant for cocoa roads construction.
It would be recalled that Cocobod's immediate past CEO, Dr. Stephen Opuni, was invited earlier this year by EOCO for questioning over alleged rot at COCOBOD.

Kingsley Nkansah, General Secretary of the General Agricultural Workers' Union (GAWU), in April 2016, accused the management of COCOBOD under Dr. Opuni of selling cocoa beans unknown to the government.

Mr. Nkansah disclosed at a meeting with journalists that "thousands of tonnes of cocoa are sold by the management of COCOBOD, which is hidden from the government and for which no proper accounts are maintained either. This is known as 'Special Sample Residue.'"

Mr Amoah stressed that the distribution of the 'spoilt' fertilizers to cocoa farmers from 2014 to 2016 had grievous consequences on cocoa production in the country.

"The consequence of the supply of "bad" fertilizers was the drop in the yield of cocoa over the period under review, and we have farmers who have come to testify that," he said, contrary to claims by authorities at COCOBOD at the time that Ghana witnessed a sharp drop in its cocoa yield due to climate change, which they said caused low rainfall over the period.