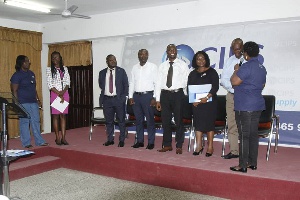 Thu, 22 Nov 2018 Source: Nii Ayi Mensah Lartey
Chartered Institute of Procurement and Supply Ghana (CIPS) has elected new executives to stir the affairs of the chapter as its old executives leave office.
The elections came off a the just ended annual general meeting of CIPS held at in Accra at the University of Professional Studies (UPSA) on Monday 20/11/18.

Positions contested for were Branch Chairman, Vice-chairman, Secretary, Education Officer, Communication and Social Media Officer. The chairmanship position was keenly contested by Paa Kwesi Crentsil and Prince Nsiah Asamoah. Although Paa Kwesi emerged as the winner he was given a stiff competition by his colleague.

Names of the newly elected executives for CIPS Ghana include Victoria Addo Bansah (Vice-chairman), Raymond Hedidor (Secretary), Mark Ofori Afayori (Education Officer) and Daniel Kweku Doudu-Danso (Communication/Social Media Officer).

Speaking with Paa Kwesi Crentsi, the newly elected Chairman, he expressed gratitude for victory and stated that he and his executives will work to ensure the success of the organization just as his predecessors have done.
He added that he will collaborate with key stakeholders like Ministry of Procurement, Public Procurement Authority (PPA) and other bodies during his tenure of office to accelerate the growth in the chapter.

Paa Kwesi Crentsil mentioned internal capacity building as key to administration. He maintained that there is need to make the CIPS Ghana visible to many people as possible to strengthen its influence.

The new executives were sworn into office by Sam Achampong (Regional Head Middle East, North and West Africa) and Mrs Stella Addo (Country Manager CIPS, Ghana)
Source: Nii Ayi Mensah Lartey