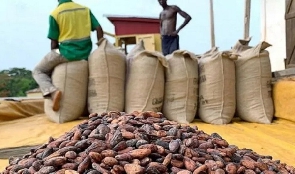 Fri, 24 Mar 2023 Source: GNA
COCOBOD has rolled out the Cocoa Farmers Pension Scheme with a target of enrolling 800,000 cocoa farmers to benefit from the scheme.
Farmers from 15 communities, out of the seventy cocoa districts across Ghana, have been captured by the Cocoa management System (CMS), to start the phase one of the scheme.

Among the communities to start the scheme are Juaso, New Edubiase, Antoakrom, Bekwai, Obuasi, Nyinahin and Tepa.

Section 27 of the COCOBOD Law 1984 (PNDC Law 81), enjoins the Board of Directors to implement a contributory insurance and welfare scheme that provides a decent pension for cocoa farmers.

The scheme is regulated by the National Pension Regulatory Authority and governed by a ten-member board of trustees which includes four cocoa farmers.

It is a regulated pension scheme for the sole benefit of registered cocoa farmers.
The requirement of the scheme has it that, there is no specific age entry and it only requires a registered cocoa farmer with a cocoa card issued by COCOBOD through the Cocoa CMS.

Per the scheme, a registered farmer makes a mandatory contribution of five percent of his or her produce, while COCOBOD pays a minimum top-up contribution of one percent of the farmers' produce on behalf of the farmer.

Complementing the scheme is the eligibility of the farmer to add an additional voluntary contribution, ranging from 2.5% -10% of his or her produce.

Mr. Daniel Aidoo Mensah, Chairman of the Board of Trustees of the Scheme, at a programme to officially roll out the scheme in Kumasi, said the essence of the scheme was to afford cocoa farmers a befitting retirement package.

"The primary aim of the scheme is to ensure a decent pension for cocoa farmers, improve their welfare and make farming attractive to the youth."
Mr Mensah explained that, while on the scheme, a contributor may decide after five years, to retire from it and enjoy full benefit, but a young farmer who signed onto it may opt to retire at age 55 or decide to remain on it and retire later.

He said it was more advantageous if a young farmer joined the scheme and maintained a good standing with regard to contributions.

Mr Mensah called on farmers to avail themselves to be enrolled onto the scheme.



Watch the latest edition of BizTech and Biz Headlines below:






Watch the latest edition of Business Moments below:


Source: GNA