Business News Sat, 25 Aug 2018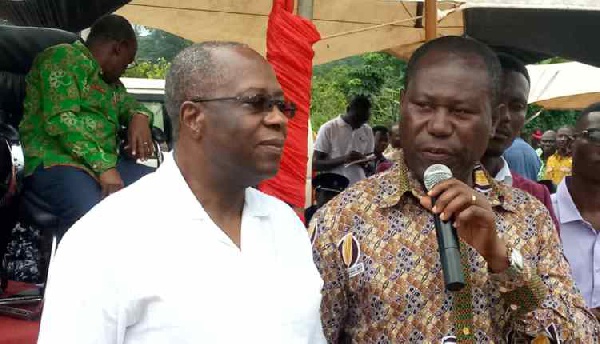 Under a joint action between Ghana and Cote D'Ivoire, some 780,000 hectares of cocoa farms infected with the Cocoa Swollen Shoot Virus Disease - CSSVD will be cut in a move to control the spread of the virus across the borders of the two countries.
In a back-to-back approach to the exercise, Ghana Cocoa Board will be cutting 680,000 hectares of infected farms while Cote D'Ivoire starts with an initial 100,000 hectares of diseased farms.

With funding support from the African Development Bank, both countries are expected to aggressively tackle the menace to enhance sustainable cocoa production in their respective countries.

Addressing cocoa farmers from both countries at the launch of the programme at Pillar 34, a border town in the Western Region, the Chief Executive of Ghana Cocoa Board, Hon Joseph Boahen Aidoo explained that the heads of state of the two countries considered the joint action inevitable in view of the high degree of cross-border transfer of the vector that causes the CSSVD.

Hon Boahen Aidoo said Ghana would initially cut 10,000 hectares of infected farms nationwide with a focus on Western and Eastern Regions where the spread of the disease has assumed an alarming proportion.

According to him, out of about 40% unproductive cocoa tree stock in Ghana, 17% is diseased thereby contributing to the reduction in farm yield and causing considerable economic harm to farmers.

He implored cocoa farmers to cooperate with trained extension staff of COCOBOD to ensure the successful implementation of the programme.
Hon Aidoo further said Government would give compensation to farmers and their landowners for the first 3 years of the implementation period in an effort to cushion them over any loss arising from the programme.

He appealed to, especially landowners to see the initiative as a National response to deal with an imminent disaster to the socio-economic development of the country.

For his part, the Director General of le Conseil du Cafe-Cacao, Mr M. Kone Ibrahima praised presidents of both countries for effectively collaborating to nip the disease in the bud.

He was particularly happy that Ghana and Cote D'Ivoire have in recent times strengthened ties in promoting the production and marketing of cocoa adding that Ghana and Ivory Coast contribute over 60% of the global market stock of cocoa.

He used the opportunity to call on chiefs, opinion leaders, security personnel and farmers to work together to achieve the purpose of the joint venture.

Trained operators and staff of both countries later demonstrated how the cutting and treatment of the CSSVD was to be carried out on infected farms at Pillar 34 and Manzanouan.
Source: COCOBOD