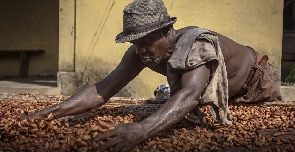 The Cocoa Pro­cessing Company (CPC) PLC is unable to recommend payment of dividends to its shareholders for the 2021/2022 financial year due to operational challenges and other shortfalls, the Board Chair of the company, Kwaku Owusu Baah, has stated.
Among these, he said were shortfalls in cocoa bean supplies, frequent machine breakdowns and cash flow challenges leading to losses during the period under review.

"The last three years have been difficult both for nations and for businesses globally as a result of the COVID-19 and the Rus­sian-Ukraine war. The pandemic led to recession and economic contractions in many countries and the cocoa and chocolate industry was not spared," he added.

Mr Baah said this at the Annual General Meeting (AGM) of the CPC in Accra yesterday to discuss the annual reports for 2021 and 2022.

The meeting was attended by shareholders, directors, staff of CPC and other stakeholders.

He said the pandemic disrupted supply chains, leading to labour shortages, transportation bottle­necks and increased cost.

However, the Chairman stated that CPC's losses were on a decline from a high of more than US$18.6m in 2020 to over US$12m in 2021 and further down to US$12m 2022.
"Additionally, beans processed decreased from 13,819 metric tonnes in 2020 to 13,097 metric tonnes in 2022 but while the quantity of beans decreased, our turnover position improved, increasing from US$13.6 million in 2020 to US$41.8 million in 2021 and further up to US$43.5 million in 2022," he added.

Mr Baah assured of CPC's com­mitment in ensuring the safety and health of its employers, adding that the operations of the company were therefore subjected to regular evaluation and re-evaluation by the Environmental Protection and De­partment of Factories Inspectorate

The Acting Managing Director of CPC, Mr Frank Adu Asante, in his remarks stated that cocoa beans processed during the years under review were 13,494,883 metric tonnes in 2020/2021and 13,096.875 metric tonnes in 2021/2022 representing margin­ally lower than 13,957,450 metric tonnes of cocoa beans processed in 2019/2020.

He mentioned that the reasons for low production was attributed to the unavailability of variety of beans which were more portable to process.

"Technical setbacks due to delays in procuring parts from external sources for repairing plant and equipment, financial con­straints affecting timely acquisition of spare parts for machinery were some of the reasons for the low production," he added.

Mr Asante stated that the com­pany had not seen expected prof­itability and growth in the years under review due to erratic beans supply and reduced efficiency of plants and machinery.
On the outlook for 2023, Mr Asante stated that seven out of 10 new machines for packing of various sizes of drinking cocoa and con­fectionery products would be operationalised.

"CPC's increasing pres­ence in the newly created geographical regions in Gha­na will reflect on our turn over profitability," he added.

He said sales were expected to increase in the new market that CPC had developed in the African Continental Free Trade Area (AfCFTA).

The Managing Director said to ensure compliance of all statutory and compliance bodies staff were taken through training in good manufacturing and food safety practices, occupational health and safety practices as well as the importance of traceability in the cocoa value chain.