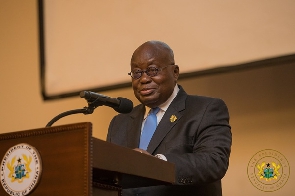 Government Spokesperson on Governance and Security, Palgrave Boakye-Danquah has stated that President Akufo-Addo has demonstrated a willingness to fight corruption in the country.
In the 2022 Corruption Perception Index (CPI) released by Transparency International, Ghana ranks 72 out of 180 countries with a score of 43 out of 100 which is a repetition of its marks for the two previous years.

With the CPI score being the perceived level of public sector cor­ruption on a scale of 0-100, where 0 means highly corrupt and 100 means very clean, it means Ghana has not improved in the anti-graft fight.

The report highlighted the need to address the canker since corruption is a major contributor to the current economic woes of the nation.

However, commenting on the report on Starr FM Weekly Review Program, the government spokesperson on Governance and Security, said this government has been the most committed against graft.

He said contrary to the CPI report anti-graft institutions in the country have been better funded to work effectively.
"This is perception and it means that it's the perception that people have. Now the government has sought to tackle corruption at the very base than any government in this country since Dr. Kwame Nkrumah.

"It took President Nana Addo Danquah to set up the office of the Special Prosecutor. Which is one of the major steps into tackling corruption," the spokesperson stated.

Mr. Boakye-Danquah further explained that the government's budget since 2017 focuses very largely on anti-corruption agencies such as the Special Prosecutor, EOCO, CHRAJ in tackling corruption.

He however added that there are some challenges with the office of the Special Prosecutor that the government is fixing.