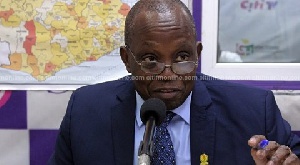 Some civil society groups in the country have thrown their weight behind the Auditor General, Daniel Domelevo, who petitioned President Nana Akufo-Addo this week over the action of the Board Chair of the Audit Service, Professor Edward Dua Agyeman.
In the said petition, Mr. Domelevo cited the Board Chairman for interfering with his work.

According to him, Professor Agyeman has violated some procurement processes on many occasions.

He therefore called on President Akufo-Addo to intervene and ensure that Professor Agyeman does not make his work difficult.

Upon receiving the petition, the President is said to have instructed his Secretary, Nana Asante Bediatuo, to look into the matter.

Following from that the Ghana Anti-Corruption Coalition (GACC), which is made up of various civil society groups, has expressed its support for the Auditor General's call.
A release dated September 14, 2018 and signed by some 21 civil society organizations backed the Auditor General, Daniel Domelevo.

According to the GACC, the action by the Board Chairman of the Audit Service poses a threat to the work of the Auditor General; hence, there is the need for the President to deal with the issue.

"We consider these developments extremely troubling and a threat to the ongoing efforts by the Audit Service to protect the public purse and promote public accountability."

They noted that the Auditor General is mandated by law to execute his duties devoid of any control or interference.

The Coalition further stated that the fracas between the Board Chair and the Auditor General reflects weaknesses within the public sector and the country's corporate governance structure.
They charged the president to ensure that the matter is dealt with to a successful end, in order to allow the Mr Domelovo perform his duties without any interference.

"We have taken notice of the swift action of the President, once the matter became public, to investigate the matter, and we urge that this task is undertaken with alacrity to ensure the ongoing work of the Auditor General and the morale of the Service is not affected."

The Coalition noted that it holds Mr. Domelevo and the staff of the Audit Service in high regard, and would want measures to be put in place to enable them work without any form of interference.