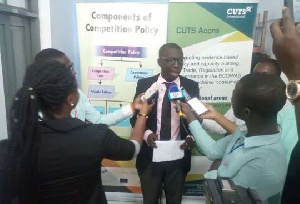 CUTS International Ghana, a research and advocacy policy think tank, has proposed to government to remove the special petroleum tax to lessen the impact of the exchange rate vulnerabilities on consumers.
The organization expressed concern about the persistent increases in petroleum products prices, adding that, the removal of the tax would reduce the effect on rising cost of transportation of goods and services.

Mr Appiah Kusi Adomako, the Country Director of CUTS International, Ghana, made the proposal in Accra at a press briefing on their inputs into government budget statement and economic policy for 2019.

As part of effort to mobilise revenue, the organization urged government to enhance tax effort by clamping down on tax exemption and deductions and renegotiate tax treaties to allow higher withholding taxes, capital gains taxes and taxes on individual.

"We are proposing to government to make tax collection more progressive by increasing the proportion of taxes coming from personal and corporate income tax and automate all toll roads and give incentives to cars that make pre-payment using electronic pass," he added.

Mr Adomako urged the Metropolitan, Municipal and District Assemblies to maximise efforts in raising revenue from property rate and have the same spent on three key sectors -education, health and sanitation.

The organisation proposed that the Ghana Revenue Authority should develop an online platform that would require all companies paying their employees' salaries upload it unto their system for validation.
He explained that the validation would allow people working in multiple places to pay the correct tax rate instead of only paying 7.5 per cent withholding tax on their remaining jobs.

Touching on tax exemptions, Mr Adomako said the exemption for multinationals should be tied to how the operations of the firms would lead to the attainment of the Sustainable Development Goals.

"Tax exemptions should be given to multinational firms in a sector where there are existing local players to ensure competition and level playing field. The exemptions must also be linked to sustainable job creation".

Mr Adomako called for the ban on sitting allowance in the public sector and be reserved to those who are not on government payroll like the assembly members to prevent revenue leakages in the system.

Focusing on job creation, the Country Director suggested a centralised recruitment portal for employment into the public sector to ensure that public service gets the best of talents for effective service delivery.

The organisation urged government to develop the Technical and Vocational Education Training institutions to enable foreign companies to source some of their car parts from the Ghanaian market.