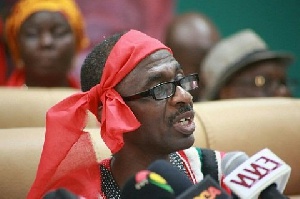 The General Secretary of the National Democratic Congress, Johnson Asiedu Nketia has stated that calamity will befall Ghana if parliament approves President Akufo-Addo's proposal to designate 4th August as founders day.
According to him, the so called founders president Akufo-Addo intends to honor are the same people who boycotted the passing of the independence law in parliament and as such do not deserve to be celebrated as freedom fighters.

General mosquito as he is popularly called, noted that members of the 'Big six' who president Akufo-Addo seeks to honor as freedom fighters do not merit that honor, 60 years after they boycotted an exercise that was to ensure the independence of the nation.

"If we allow this thing to happen in Ghana, unthinkable calamities shall befall Ghana because God will not bless this country for diluting the efforts of Nkrumah to favor another person," he emphasized.

Mr Asiedu Nketiah believes president Akufo-Addo only wants to Honor his Father and Uncle now that he has assumed the highest office of the land.

He questioned how the Big six could fail to recognize founder and bank roller of the United Gold Coast Convention(UGCC), Paa Grant but president Akufo-Addo claims his (Paa Grant) party fought for Ghana's independence.
"Why do they claim to be from the Danquah Busiah tradition and not from the tradition of Paa Grant who was the founder of the UGCC," he asked.

General Mosquito is upbeat that Ghanaians will never accept to observe August 4th as a public holiday, should the majority approve the president's proposed legislation to Parliament to designate the day as Founders Day.

He stated that Ghana changed from Left hand driven vehicles to right on August 4th 1974, an occasion worth celebrating instead of this proposed founders day.