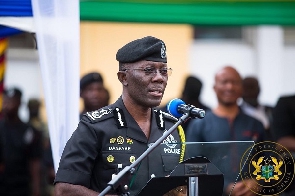 A 77-year-old businesswoman Rosemary Cudjoe has appealed to the Inspector-General of Police (IGP), Dr George Akuffo Dampare, as a matter of urgency to swiftly intervene in a land dispute with Nii Ebenezer Sowah and Patrick Osakonor Borquaye.
According to her, she has been in possession of the said 12 parcels of land with her friend Rosemet Lamiakor Sackey since 1998 until recently, some persons believed to be grandchildren of Nii Amasah Tetteh Cooper emerged to lay claim over her land.

The 77-year-old woman, Rosemary Cudjoe who was addressing a section of the media amid tears, indicated that she suspected attempts by the Regional Police Command led by COP Garribah to frustrate ongoing investigations over the land.

"Look at the land, I have been in possession since 1998 and have even begun a project on it. I had to halt the project and use the money to care for my children's education.

"I am the same person who erected all these walls around the land. Everybody in this vicinity knows this land belongs to me. I was here even before many of the people around came to live here," Rosemary Cudjoe said.
She revealed that Ebenezer Sowah and Patrick Osakonor Borquaye, who are believed to be grandchildren of Nii Amasah Tetteh Cooper from whom she bought the land, are using land guards to harass caretakers on the land.

"They have first reported me to the Batsoona police. The police came to do their investigations around her. Later they took me to the Police Headquarters and later, to the Greater Accra Regional Police. I understand that Headquarters is requesting for the docket from Regional but COP Garribah is refusing to release the docket," she alleged.

"I don't understand why COP Garribah is trying to frustrate the process. They have also arrested caretakers on the land and as we speak they are in police custody. I am appealing to IGP to look into the matter and sanction the release of my caretakers," she said.

"My appeal is for the IGP to hand over this case to the Police HQ CID since they started the investigation first and are yet to conclude it. Accra Regional Police Command, by their conduct of simply arresting and beating my caretakers who have been living there for over 20 yrs, claiming they are land guards cannot be trusted to investigate impartially."