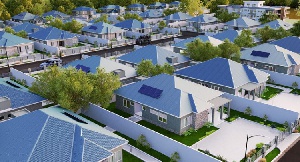 Castle Gate Estate Limited, an indigenous privately-owned real estate company, has signed a sale and purchase agreement with IDES Limited for the purchase of 150 units of its brand of uncompleted houses.
The handing-over ceremony took place in their plush Dzorwulu office in Accra.

Speaking to journalists after event, Mohammed M. Ibrahim, leading the new brand of management for the company, stated that it was crucial for the company to embark on this move in order for it to raise enough funds to settle its encumbrances and position the company strategically to face the opportunities and challenges within the sector.

He said it was critical for the company to raise funds organically to support its plans in order to boost operations.

"It is true that the company is faced with some financial challenges but the only way to resolve these is to let off some of its properties for a new company with the financial wherewithal to complete and sell to raise funds for immediate to medium and long-term solutions," M. Ibrahim added.

He recounted how the company's 'build, deliver and spread payments within fifteen years project' affected the company and nearly plunged it into insolvency.

Ibrahim regrets the fact that Castle Gate who used to be a cynosure and a benchmark within the real estate space is now a pale of its own shadow, adding, "It is our avowed claim that now that we have found a buyer in IDES Limited we are very happy about the turn of events."
The managing director reiterated that despite efforts by the old administration to address the growing problem, it was difficult and practically impossible to find a lasting solution.

He made reference to companies both local and foreign who have once found themselves in this same quagmire but were able to pull through, mostly through innovative ways such as what Castle Gate has done today.

Ibrahim explained that even though most of its clients are quite aggrieved to the extent that they have resorted to the law courts for redress, it is the plan of this new management to engage all aggrieved parties and schedule a realistic plan to offset all its indebtedness.

On his part, Abdulai Cise, who represented IDES Limited, lauded Castle Gate for its forthrightness and he assured management of their resolve to quickly fix all the houses and urgently turn them into the needed cash for Castle Gate to liquidate its indebtedness and also recapitalise itself.

He commended the government of Ghana for its initiative to create an enabling environment for the housing industry to thrive.

Mr Cise gave the indication that the houses would be redesigned and packaged for a secured lifestyle and upscale living in Ghana.