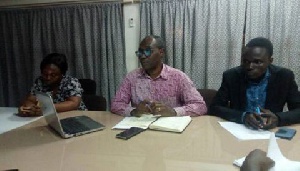 Mon, 17 Sep 2018 Source: The Publisher
The National Cataracts Outreach Program (NCOP) will today, begin a free screening and cataracts surgery for affected persons at the Koforidua Regional Hospital.
Making this announcement to the media, the Head of Eye Care Unit at the Ghana Health Service (GHS), Mr. James Addy said, the surgeries will continue till Friday and would be conducted by doctors from America and Ghana.

"We will conduct free surgery to people who are suffering from cataracts infection. Those with or without health insurance would all benefit from the surgery," he mentioned.

According to Mr. Addy, a national blindness research conducted in 2015 to get the total number of people who suffer blindness in the country, indicated that, about 0.7% people are blind, regardless of the population of our country, hence the decision for a cure.

He stated that, about 54% of the population has cataracts infection, adding that people are at the risk of developing cataracts as they age.

"As a country we decided to conduct 40,000 cataracts surgeries every year, but then, the cataracts surgeries we are doing for the whole year is just about 15,000. We are nowhere near 20,000 that is half of what we are supposed to do," he said.

Commenting on the challenges, he stressed that there have been lots of difficulties which have contributed to the inability to conduct the required number of surgeries.
"We needed help and so, as a country we mobilized resources and then teamed up with the Humane Lain Cataracts Project (HCP) which is a None Governmental Organization (NGO) in America to assist them do the 40,000 surgeries every year," Mr. Addy said.

"We have set some target for ourselves in the next five years to achieve the 40,000 surgeries" he added.

Mr. Addy noted that, there would be no side effect after the surgery, provided patients heed to the medical prescriptions from the doctors.

Mr Addy went on to advise Ghanaians to seek for medical assistance at the early stages of cataracts infections.

When it is prolonged it can cause unnecessary pressure to the eye which can metamorphose into something else, he added.
Source: The Publisher