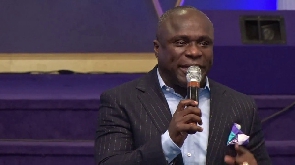 Kwabena Adu Gyamfi, a member and secretary to the National Cathedral Board of Trustees was granted a diplomatic passport through regular processes, court filings available to GhanaWeb have shown.
The names and dates of birth of the clergyman, also referred to as Victor Kusi Boateng; has in the last year being subject of public scrutiny after North Tongu Member of Parliament, Samuel Okudzeto Ablakwa, started probing into documents around the cathedral project.

Adu Gyamfi is currently in court suing Ablakwa for defamation.

It is from the filings to support his case (by Dr. Paul Opoku-Mensah – Executive Director of the National Cathedral of Ghana – that the letter through which a request was made for him to be granted a diplomatic passport has popped up.

The letter dated October 27, 2021 was addressed to the Chief of Staff and titled: DIPLOMATIC PASSPORT FOR OFFICIAL TRAVEL: NCG TRUSTEE MEMBER/SECRETARY.

The request was essentially to facilitate his travels because he was supposed to be a "key part in both the fundraising and play significant roles," around international fundraising and development of International Institutional partnerships for the project.
The letter was signed by the Executive Director of the National Cathedral of Ghana and copied to the Chairman and Secretary of the Board of Trustees.

Other documents available to GhanaWeb shows that the request was approved and communicated to the NCG in a letter from the office of the President signed by Secretary to the President, Nana Asante Bediatuo on November 21, 2021.

See the letter below:




You can also catch up on the third episode of Everyday People below:





You can also watch the latest episode of People & Places here:




Share your news stories and ideas with GhanaWeb




To advertise with GhanaWeb


SARA