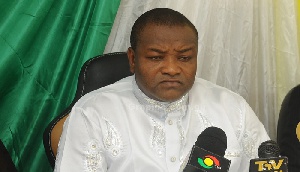 Founder and Leader of the Action People Congress (APC), Dr Hassan Ayariga has warned the Akufo-Addo government not to attempt to celebrate any day as Ghana's independence day when they go ahead to sign the US Military base agreement.
Speaking at a hurriedly-convened press conference in Accra at his residence, the politician warned the Akufo-Addo government not to sell the sovereignty of Ghana for a chicken change of 20 million dollars.

"If this thing is adapted,then we must stop celebrating independence… once again the Danquah Busia tradition has sold our sovereignty", he declared.

"As you are all aware there is this disturbing revelation of a senseless secret proposed agreement being entered into by our government with the government of the United State of America. I believe you have as well as I did looked at the memo conveying the secret agreement to parliament and the subsequent proposed agreement leaked. First of all, let me commend those who leaked this deadly agreement for the attention of the public. They have lived up to their pledge to fight oppressor's rule. Today myself and the APC join them to fight the oppressor's rule." He said.

"I wish to emphatically state that we are completely opposed to the terms and conditions of this dictatorial sovereignty-breaching agreement which immures (sic) only to the benefit of the United States.", he said.

"It is a reckless agreement that outrightly sells our sovereignty to a foreign state and terrorists. Ghana stands to gain nothing from this obnoxious agreement all the time. A nation's national interest determines the kind of international treaties it ratifies.", he added.
"In this case ladies and gentlemen, Ghana's national interest is ignored for the national interest of the United States in Ghana's sovereign territory. It is a complete absurdity", he couldn't hold his rage.

"What is the interest of Ghana in this agreement?", he asked rhetorically.

"Auctioning our sovereignty for some $20 million dollars which will evaporate soon through the mouths of the jackals in government who said they are driving Ghana beyond aid?", he asked again.

He didn't spare a 'clueless' Defense Minister Dominic Nitiwul:

"The clueless Minister of Defence has sought to put up a lame defence of his incompetent agreement with a bogus declaration that our forces will receive training from the US forces. I don't blame him. He is a square peg placed in a round hole and this is what will happen to us. We are all aware of the dangerous repercussions of this kind of agreements with the United States.", Dr Hassan Ayariga said.