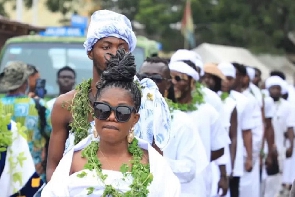 Wed, 23 Aug 2023 Source: GNA
Hiplife musician, Belinda Ekua Amoah, popularly known as Mzbel, was among hundreds of participants who joined the all-white remembrance procession, announcing the start of this year's Chale Wote Street Art Festival in Accra.
The walk, which took off about 4pm, Monday, was to pay homage and pave the way for a successful celebration of the week-long festival.

The participants, led by a chief priest, started the procession from the Osu township, through the Lokko Street, Starlets 91 Road and the Black Star Square, before finishing at the Christiansborg Castle.

Mzbel at the start of the journey, told the Ghana News Agency that she could only endure the exercise for about an hour, however, the entire trip turned out to be somewhat shorter than expected.

Asked what she thought about the new venue for this year's event, she said the Black Star Square was "much better".
"I have always been a part of Chale Wote, doing business from my restaurant,  but this is the first time I am taking part in this ritual.

"Chale Wote is growing and I think the Independence Square is the right place to be. It is spacious and it makes it easier for people to identify where all activities are taking place."

The 'Awoso me' singer who delivered a baby girl recently hopes the entire celebration ends successfully, as she remains a part of the large audience telling the rich indigenous story of the locals through arts and culture.
Source: GNA