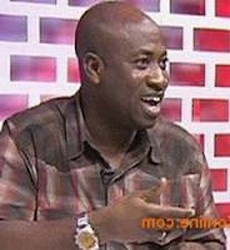 Mon, 25 Mar 2013 Source: Joy News TV
Member of Parliament for Nantong, Mutala Mohammed is asking Nana Addo Dankwa Akufo-Addo and the NPP to challenge Justice Francis Kpegah and allow the due process of the law to take its course.
''lf we respect the rule of law, what Nana Addo and the NPP need to do is to confront him[Justice Kpegah] with evidence at the court of law, it will be in their interest to do so,'' he added.

Speaking on Multitv's political talk show, Joint Caucus, Mutala Mohammed questioned whether the 2012 presidential candidate for the NPP attended the 3 months training at the law school required of him after studying law abroad.

''Was it legitimate for him to practice law in Ghana if he did not go through the training? That is one question l will like Nana Addo to answer,'' he said.

He bemoaned the insults and attacks leveled against Justice Kpegah by some leading members of the NPP as well as some respectful lawyers in the country and asked them to rather look at the substance of the case presented.

Former Attorney General, Ayikoi Otoo who was also on the show, representing the NPP, dismissed arguments raised by Justice Kpegah that Nana Addo's name was not on the roll of lawyers.
He indicated that Nana Addo has always been known as William and that was the name he used on the roll of lawyers adding that there is nothing wrong with it if he [Nana Addo] had decided not to use that name anymore.

''You can always swear a statutory declaration to change your name. l am Joseph but no one knows, l am J.A Otoo on the roll of lawyers but no one knows because l do not use it,'' he explained.

Ayikoi Otoo insists that Nana Addo is on the roll of lawyers as W.A.D Akufo-Addo and challenged Justice Kpegah to prove that was not so.

''Justice Kpegah should show evidence of any lawyer in Ghana by name W.A.D Akufo-Addo called to the bar in 1975 if he believes Nana Addo is indeed impersonating," he added.
Source: Joy News TV