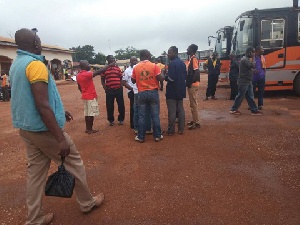 Armed Police personnel have taken over control at the Metro Mass Transport terminal at Kumasi following a near clash between supporters of two rival individuals who claim to have been appointed to head the state transport company.
According to Ultimate FM's Isaac Bediako Justice, the rival supporters had massed up at the Bantama-abrepo junction office of the MMT for a showdown Thursday when the police arrived to calm tempers.

According to sources familiar with the development, the Ashanti regional deputy Organiser of the ruling New Patriotic Party, Daniel Agyenim-Boateng, who claims to have been appointed to head the company, was set to start work today when he was suddenly confronted by followers of one Nicholas Oduro, who also claims to have been asked to head the firm by NPP kingpin Dr. Amoako Tuffuor.
The development has caused a standoff at the premises of the firm and slowed down operations of the company.

The Police are currently working to resolve the impasse.