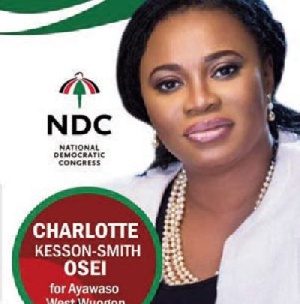 Former Electoral Commission (EC) chairperson, Charlotte Kesson-Smith Osei, has spurned social media reports, which created the impression that she is preparing to contest the Ayawaso West Wuogon parliamentary seat on the ticket of the main opposition National Democratic Congress (NDC).
The position became vacant following the recent demise of the New Patriotic Party (NPP) Member of Parliament (MP) for the area, Emmanuel Kyeremateng Agyarko.

Her posters in NDC colours have started circulating on social media ahead of the by-election.

In a sharp rebuttal on her Instagram page headlined, 'To whom it may concern,' Mrs Osei emphasised: "I am not and have never been a registered member of any political party in Ghana or anywhere in the world. I do not reside in the Ayawaso West Wuogon Constituency and do not even qualify to run for office in that constituency."

She continued: "I have no interest whatsoever in running for Parliament and have never had that interest. Please find better use of your artistic talent than mischief making – face your life, make good art, write a book. Stop spending your life on other people's lives."

Mrs Osei, a lawyer, replaced Dr Kwadwo Afari Gyan in 2015 until she was dismissed in June 2018.
Even though Mrs Osei was dismissed on grounds of stated misbehaviour, her dismissal has been challenged in the Supreme Court in two separate writs.

She was removed from office based on the recommendation of a committee set up by Chief Justice Sophia Akuffo to investigate alleged acts of corruption, misconduct and misbehavior.

Her two deputy commissioners- Amadu Sulley and Georgina Opoku Amankwaa- were also removed from office by the president.

Mrs Osei, 49, was appointed on June 25, 2015.