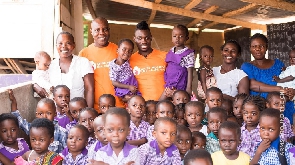 Late Ghanaian football player Christian Atsu's dream of building an orphanage school has finally come to fruition, five months after his tragic passing.
Christian Atsu tragically lost his life in the devastating earthquake that struck Turkey in February, raising concerns about the completion of the school that he had been financing for the Becky's Foundation.

The school, situated in the Senya Beraku community in Ghana, required an estimated £40,000 for its construction.

Although Atsu couldn't witness its completion, the generous contributions from fans of Newcastle United, Chelsea FC, and Everton have played a significant role in bringing the project to fruition.

Chelsea FC played a vital part by auctioning jerseys worn by their players, with the proceeds going towards the completion of the school through the charity organization Arms Around the Child, for which Atsu was an ambassador.

A recent visit by GHOne to the school revealed that construction has been finished, and the school is now ready to be inaugurated.
Seth Asiedu, the Director at Becky's Foundation, along with the students, expressed their gratitude to the donors who made the completion of the school possible.

One of the students shared, "When Atsu passed away, we lost all hope and didn't know what to do. But by the grace of God, we received assistance from people who helped us complete it."

The school which will be named the Christian Atsu Educational Center, is scheduled to be officially commissioned on Thursday, June 29, 2023.

This marks a significant milestone in fulfilling Atsu's vision of providing education and support to orphaned children, leaving a lasting legacy in his honour.

Watch video below
.@GHOneTV gets results….EVERY SINGLE TIME.

Thanks to @Thefifalady for a thorough report; before and after.

Cheers to Christian Atsu's soul.

Thank you @ChelseaFC @Everton @NUFC and all donors. pic.twitter.com/3jZo8cxAb3

— nana aba (@thenanaaba) June 26, 2023
JNA/FNOQ