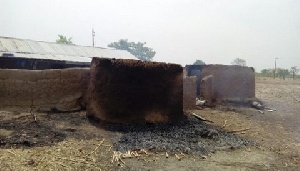 The police command at Yendi in the Northern Region has arrested more than 10 people including a local chief of the two troubled villages in the Chereponi district where ethnic clashes on Saturday between Konkombas and chekosis claimed at least three lives and injured many others.
The clashes broke out at Kurgbeni and Nadoni villages inhabited by the two indigenous tribes who have competing claims over a three-acre plot of land.

Tensions between them laid dormant until Friday when a chekosi man was attacked and butchered for an alleged effort to work on the disputed land, which was a subject of resolution at the palace of the paramount chief of Chereponi last Monday.

The Overnight fighting raged for several hours before security forces deployed managed to access the far-flung villages.

A group of combatants who were crossing the Oti river from Togo by boat to join in the clashes all perished after the boat hit a submerged tree and capsized, a resident who fled the fighting and witnessed the accident told Starr News.

He said the boat was later found afloat without its occupants. Police were unable to verify this report.

According to the Northern Regional Police Command spokesperson, DSP Mohammed Yussif, the security forces upon arrival in a neighbouring Achuma village, pursued a group armed combatants to the troubled Nadoni village, where one single barrel gun, a fully loaded Ak47 rifle and other ammunitions were retrieved.
"At the Naaduni village the team visited the konkomba settlement and observed 10 houses, two motorbikes, five bicycles, foodstuff including cassava, maize, beans, rice, soya beans , pepper value not yet known burnt", he said, adding that two persons; Kura Mustapha, 35, and Mahamadu Baafim, 42, were found dead as a result of the clash.

The security forces, according to DSP Tanko, proceeded with their patrol to the Chekosis' Kurgbeni community, where they rounded up 12 people including the local chief and his elders, and also retrieved two locally manufactured single guns, three single barrel guns and three BB live cartridges, after a raid on the palace.

Police said the chief and his elders were currently in custody assisting in investigations at Yendi and the casualties had been sent to the Tamale Teaching Hospital morgue for preservation.

More than 500 people were displaced in April last year in violence between chekosi and Bimoabas in the area. Two were butchered in 2016 between the same ethnic groups over fishing in the Kpempi river, a water source of the river Oti.

The Chereponi District, a known hotspot in the region has very few police personnel and anytime there is trouble security forces always have to travel many hours on an extremely poor road to maintain calm.