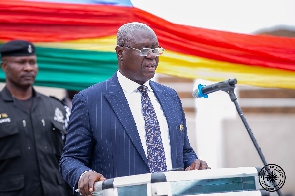 Ghana's Chief Justice His Lordship Justice Annin Yeboah has implored the general public to eschew all forms of gifts offertory to members of the judicial service since it one way or the other influences their decisions in line of duty.
He noted that people having cases at courts most often influence some staffs of the judicial service with gifts among others to enable them to rule in their favor.

Mr. Anim Yeboah believes although the practice is becoming commonly among civilians, however, the concepts must be discouraged because it is inimical to the promotion of justice in the country.

"Our revered Chiefs, distinguish Guests, I wish to use this occasion to caution people who have cases in the court and sometimes approach intermediaries to offer gifts and inducements to Judges and magistrates and staff of the Judicial services to influence cases in their favor to desist from such negative tendencies as they only serve to undermine the judicial service generally" the Chief Justice cautioned.

He therefore urged Judges and the staff of the high court to act and promote justice without fear or favor in the interest of Ghana.

Chief Justice Annin Yeboah gave the advice on Tuesday, March 7, 2023, at Yilo Krobo when speaking at the ceremony of the official inauguration of the newly commissioned Somanya High Court.
Commenting on the facility, which was officially handed over for use, he charged management to practice maintenance culture to keep the facility in good shape to serve its intended purposes.

Somanya High Court facility

Representing the paramountcy of Yilo Krobo Traditional Council, Divisional Chief of Nyewer, Nene Akpatsu Azza VI, said the people of Yilo Krobo were much grateful to President Akufo-Addo-led New Patriotic Party government for such an edifice.

According to the traditional leader, the completion of the facility is a sign of relief to the people because the project was abandoned for decades without completion.