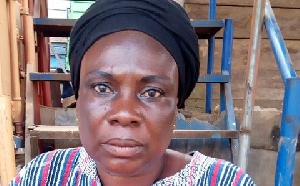 The life of the Chief of Akwamu-Amanfo near Adoagyiri in the Eastern region Nana Daade Agyiriwaa is in danger following several alleged assassination attempts by unknown assailants.
The unknown assailants are believed to have been contracted by opposition factions in a Chieftaincy dispute.

The Chief, feeling insecure fled the town seeking refuge in a different Community.

She has been compelled under the atmosphere of insecurity to rule from outside the community.

According to the Chief, Police at Nsawam have failed to show commitment to her safety despite several complaints lodged. She added that she is planning to petition the Inspector General of Police and National Security for their intervention.
The insecurity is emanating from a renewed chieftaincy dispute. The opposition faction after chasing out the Chief, slaughtered a sheep purportedly signifying her destoolment amid death threats.

On Wednesday, the Akyem Abuakwa Traditional Council sent a delegation to the community to perform counter traditional rites to nullify the action of the opposition faction.

The ceremony, though successfully done, came under attack once again as stones and sticks were hurled amidst gunshots damaging some properties and causing injuries.

The Chief, Nana Daade –Agyiriwaa in an interview with Starr News said she has ruled for nine (9) years but always feels insecure due to continuous threats on her life as the security looks unconcerned despite complaints.