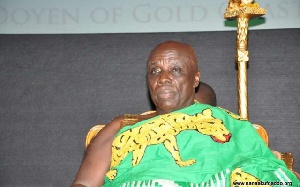 Chiefs in Ghana cannot stop illegal small-scale mining, Okyenhene Osagyefo Amoatia Ofori Panin II has said.
"Yes, there may be some chiefs clandestinely doing this [galamsey], but I can tell you, I'm not holding brief for them, most of what goes on is beyond the chief's power," the Okyenhene told Citi FM's Bernard Avle.

According to him, "what is underneath the land does not belong to chiefs", adding that they are just custodians of the land.

"The constitution says it clearly that gold is the property of the Republic of Ghana and the president is vested with that power on behalf and in trust of the people. So the gold, according to the constitution, has to be protected and looked after by the president," he explained.

"So any chief who happens to grant land to any galamseyer to do galamsey is first in violation of the law. Most of what you hear is not chiefs granting lands, it's individual farmers who are approached by these galamseyers to buy their land and then they proceed to inform the chief that 'the Minerals Commission has issued me a licence to come and do this, and, so, these persons have granted me the land', and, so, they give the chief, what we call drink money."
The Okyenhene has also parried accusations that he condones galamsey in his jurisdiction.

The Akufo-Addo government has launched an onslaught on galamseyers with a firm commitment to flushing them out. Minister of Lands and Natural Resources, John Peter Amewu, has given illegal small-scale miners a three-week ultimatum to put their operations to an end or get flushed out.

In the past few days, several Chinese and their local collaborators have been arrested as part of the war on galamsey.