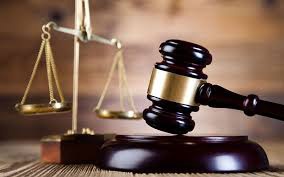 A Sunyani High Court presided over by His Worship, Justice Patrick Baayeh, has jailed two chiefs – the Gyasehene of Biadan, Nana Kwadwo Nketia and the Odikro of the town, Nana Nyamekye Anderson.
They are to spend 42 days in prison for contempt of court, owing to their willful and gross disregard for judicial processes which led to the installation of Nana Nyamekye Anderson as the substantive chief of the area.

They were also fined GH¢1,000 each or in default serve another 10 days' imprisonment.

The applicant – Nana Kwasi Benneh – prayed the court to send the respondents to prison for disregarding a petition he filed against them at the Judicial Committee of the Berekum Traditional Council, prohibiting them from continuing a process to install the second respondent, Nana Nyamekye Anderson, as the chief of Biadan.

According to him, he also filed injunction at the same traditional council to stop the first respondent Nana Kwadwo Nketia from going ahead to install the second respondent but he ignored both petitions and suit and went ahead to install the second accused.
The court after listening to the argument of the applicant represented by Twumasi and Associates convicted the accused.

Arguing, the applicant said the Biadan stool became vacant following the death of Nana Adu Gyamfi Kumanin I in 2009. According to him, the Biadan Royal stool is made up of four gates namely Awuase, Yaworase Kyeremease and Ntwenease.

He explained to the court that as a member of the Awuase Royal gate, he ought to be part of the process leading to the choice of a successor to the throne but he was sidelined so he petitioned the Berekum Traditional Council and subsequently filed an injunction to prohibit the first accused from going ahead to perform customary practice to install a chief after an announcement was made to that effect. He said the defendants were served with the petition and the injunction letters.

According to him, before a date could be fixed for the hearing of the petition, the first respondent Opanin Kwadwo Nketia, acting as Gyasehene of Biadan, went ahead and installed the second respondent Nana Nyamekye Anderson as Biadanhene. He therefore cited them for contempt before the high court and the contempt suit was upheld.