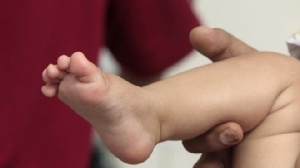 Child Rights International (CRI), a non-governmental organisation that is committed to the promotion and protection of the inherent dignity of every child, has disclosed it is ready to offer support to the family of the nine-week-old baby who lost his life after a doctor forcibly cut oxygen supply to him due to the inability of his parents to pay GHS533 hospital bills.
The matter, which is now being investigated by health authorities, has sparked national outrage amidst calls for the doctor's licence to be withdrawn and the facility sanctioned.

The little patient, known as Prosper, had been on admission at the St Gregory Hospital in Gomoa Buduburam near Kasoa, with respiratory challenges and was put on oxygen.

However, a doctor at the facility cut off the oxygen after the baby's parents failed to pay their bill.
Reacting to this development in an interview on 505 on Class91.3FM on Wednesday, 11 April 2018, the Executive Director of Child Rights International, Bright Appiah, offered to assist the family of the baby to seek justice.

He said: "There is an issue if only we can prove that the conduct of the doctor in respect to the removal of the oxygen is what led to the death of the child, then I think that we have a fine case and if the parents are listening to us, if they really want to pursue this case, I would say that we are ready to support them so that we set a precedence in the country where people will not just be taking advantage of children and do whatever they want to do with them".