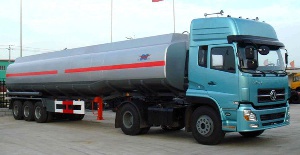 The Tanker Drivers Union has said it is a threat to their business if Chinese refinery, Sentuo Oil, continues to offload fuel locally.
According to a member of the Union who spoke to JoyNews, the drivers will stop the transportation of fuel across the country if the act continues.

He said Ghana's laws have stipulated that the haulage of petroleum products should be done by Ghanaian companies only, therefore a Chinese firm must not be allowed to offload petroleum products.

Jantuah added that boycotting their business is their last resort if nothing is done about the situation which "will obviously bring shortages of fuel in the country."

"The moment we deregulated, at the time it was GNPC distributing, the moment we deregulated, it was made that that portion should be given to Ghanaians so if you see, Shell, BP has tankers which do not belong to them but because we pick for them, we paint our tankers with their emblem but they don't own the tankers.

"So why should the refinery now say that they have their tankers and distributing? Do TOR, NPA, and BDCs have their own tankers? They all depend on us so if you are coming in, you are going to kill our business and we have to fight for it," he said.

Jantuah said the tanker drivers are currently frustrated over the development since most of them have loans to pay.
The union is therefore calling on the National Petroleum Authority to act as soon as possible to avert any further challenges.

SSD/NOQ

Ghana's leading digital news platform, GhanaWeb, in conjunction with the Korle-Bu Teaching Hospital, is embarking on an aggressive campaign which is geared towards ensuring that parliament passes comprehensive legislation to guide organ harvesting, organ donation, and organ transplantation in the country.

Watch the latest edition of BizTech below: