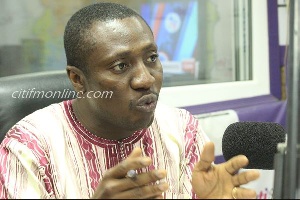 Member of parliament for Effuttu constituency and board member of Ghana Water Company Limited (GWCL), Alex Afenyo Markin, has admonished GWCL workers to chose the company over a supplier.
"If the company does not survive, the supplier will also not survive either" he said on Accra-based Peace Fm 'Kokrokoo' while urging suppliers to also think about the well being of GWCL.

His admonition, follows discussion on the issues relating to the water rationing exercise, what brought about the situation and the means GWCL will use to improve water supply to Ghanaians.
He praised the effort made by all past governments as well to improve water supply but did not deny the fact that more work needs to be done. Afenyo further assured that the GWCL is working to resolve this perennial water issue that has lead to the rationing of water.

Hon Afenyo Markins thus advised the workers to be united towards the advancement of the company- assuring them that the managing director and his team are working to improve the conditions of employees.